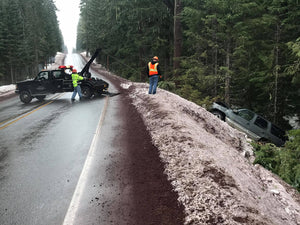 Roadside Assistance around Southern Oregon Events
Just over the Northern California border is a majestic mountain valley,  Medford, Oregon, a tranquil city with a lot of out skirt towns like Ashland, OR, Jacksonville, OR, Rogue River, OR and Applegate Valley. If you find yourself driving Through Medford, be sure to prepare yourself for those twisty windy mountain roads. For tow truck service, tire change, fuel delivery, car jumpstart or lock-out service, we are here to help. Our lightning fast service is ready to help when you need it. Diamond LV Towing and Recovery is well known in the area for all your roadside and off road needs. We provide in on-demand roadside assistance services and provides the fastest, safest and most innovative experience. We offer transparent service with clear, flat-rate pricing, cashless payment, and reliable help for motorists. Diamond LV Towing is also the only roadside assistance service with off road, stuck in the mudd or snow capability trucks – a unique feature that provides families and caregivers peace of mind by allowing them to explore those beautiful majestic BLM or National Forest Roads with roadside service of a loved one from start to finish. So instead of Googling "Cheap tow trucks near me", just give Diamond LV Towing a call.
Medford can be reached by I-5 and State Highways 99 and 238 along with 140. It's important to be prepared when driving to or from Medford. Traffic can be horrendous and you do not want to be stranded in a car with a dead battery or no fuel. Driving can be hazardous and you must use caution! Always remember, when in need of roadside assistance inside Medford or out, Diamond LV Towing is only a phone call away from getting you back on the road with tow truck services, tire change, car jumpstart or lock-out services at your disposal!
For visitors and residents, Medford offers an array of year-round attractions, outdoor activities, unique festivals, exciting events and spectacular scenery.  Explore wine tasting, rafting, jet boats, and beautiful scenery and discover some of the reasons the residents are proud to call Medford home with the clean mountain lakes and hiking trails all around.
Medford is surrounded by much to do outdoors. The Table Rocks is a popular hiking destination, formed by volcanoes over 7 million years ago. At Prescott Park, you can find miles of hiking and biking trails both paved and unpaved. Drive a little ways out to Crater Lake National Park and fall in love with the views of the mile deep lake in the mouth of an old volcano. This lake was naturally formed. A favorite tourist attraction.
Head on down passed Grants Pass, Or to the Oregon Caves. Guided tours daily through caves that show natures underground magic. During your guided adventure you will discover the history and geology of this natural wonder. Great for the kids or bring the whole family for an adventure.
Plan an excursion with Wine Hopper Tours, Crater Lake Trolley, or Morrison's Rogue Wilderness Adventures and choose from rafting, hiking or fishing on the Rogue River.  How about the Crater Lake Zip Line? A full day adventure with a kayak lunch and zipline fun for thrill seekers. Crater lake zip line has adventures for kids as well. Or just enjoy a nice wine hopping tour of all the winerys in the valley. With over 127 vineyards this is a day or two adventure to enjoy while commuting to or from your vineyards and 60 tasting rooms you'll want Wine Hopper tours to show you the best the region has to offer. The wineries in the Rogue and Applegate Valleys are an easy day tour from Ashland, Medford and Jacksonville, Wine Hopper tours have pickups in all three town and will whisk you away in their custom Mercedes Benz Hopper Sprinter. If you decide to drive your own vehicle between activities remember that you have Diamond LV Towing a call away for whenever your vehicle needs help, wherever you are!
The Applegate Valley is situated in the mountains of Southern Oregon, in a unique pocket of geography. The temperate climate, with its gentle summer breezes, warm fall days and refreshing cool nights, allows us to produce a great range of truly remarkable wines in the area. Nowhere else in Southern Oregon can you experience award-winning wines in such a beautiful, pristine setting.
Don't miss a show at the historic Holly Theatre located at 226 W 6th St, built in 1930. Or live show at the famous Craterian Theatre. Or how about an outdoor concert at the famous Britt Festival located in the historic mining town of Jacksonville, Oregon. A summer long list of Famous Performers come from all over the world to perform at this historic place. The Oregon Shakespearean Festival is one of the region's biggest attractions, boasting multiple Tony Awards and accolades. TIME magazine name it as one of the top five regional theater companies in the country. Get your tickets early! Also, don't miss a tour of the Harry & David orchards. Wherever you go or whatever you do, don't let a car lockout or dead battery ruin your adventure. Call Diamond LV Towing to get the closest roadside assistance so you can get back to enjoying a great vacation.
Shoppers can go to the two story  Rogue Valley Shopping Mall at 1600 N Riverside Ave with clothing stores, antiques and the food court. Something for everyone at the Rogue Valley Shopping Mall. Head to downtown Medford for a lively scene of shops and restaurants. When you get hungry, know you have many options. Head to Jasper's Café for a beer and a juicy burger. Jaspers's is the place to go for those famous odd and out of this world burgers. For pizza, try Kaleidoscope Pizzeria and Pub.  Try the tapas at Elements Tapas Bar. Wherever you decide to dine, know that Diamond LV Towing is a phone call away to get you home safe in the event of sudden and unfortunate car problems. Our roadside assistance app is easy, safe, and will save you money and time.
No one likes being stranded in their car, while trying to find reliable and available roadside assistance on their phone. Do yourself a favor and keep Diamond LV Towing saved on your phone before your next trip, or better yet, now! You never know when you'll be in need of a jump start or tire change, if you've been locked out of your car, or run out of gas. Diamond LV Towing provides a local, on-demand towing service - and we're the quickest in the business. If you experience any of these unfortunate occurrences, let us make it easier, faster and cheaper than ever before: towing services, dead battery, locked your keys in the car, flat tire, out of fuel, stuck in a ditch and need a tow. Call Diamond LV Towing and we will get you the nearest roadside service truck to get you back to your travels quickly. 
---